Morning Prayer (in Church and online)
Time: 9:30 - 10:00
We hold our morning prayer as a hybrid service - in-person in Church or online using Zoom; there are two options for obtaining the link for this:
It is in our weekly email updates. To be added to future updates, please subscribe here (and choose '2' to get the link immediately).
Ask for the link by email.
For the Zoom online service, there is no need to have any books, everything will be on the screen (for a good size of text it is recommended to use a computer or tablet rather than a smartphone).
Evening Prayer in Church
Time: 17:00
Please join us in Church for our short Evening Prayer each evening Monday to Thursday
Weekly Day of Prayer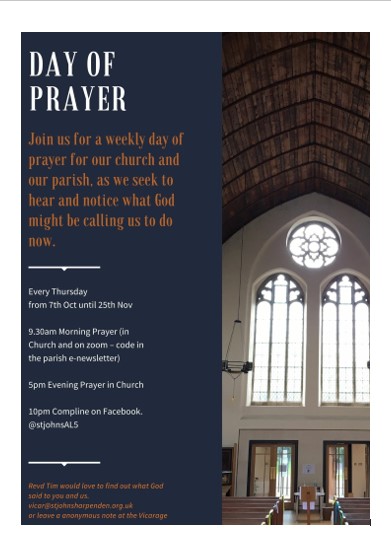 As we journey on through this pandemic, we might wonder what next for the church and St John's? We begin of course in prayer. I'd like to invite you to join us every Thursday for the next 8 weeks, either in church (9.30am or 5pm), online (9.30am on Zoom or 10pm on Facebook @stjohnsAl5), at home or on your way to work as we spend time praying for our Parish and what God might be calling us to do. Revd Tim has written a prayer to help us, and each day a special intention. More details can be found in this flyer.
Church Open for Private Prayer
Time: 10:00 - 17:00